You can organize the best introduction camp here!
With 1050 beds and many facilities such as a restaurant, swimming pool and sports field, the ideal location for an introduction camp!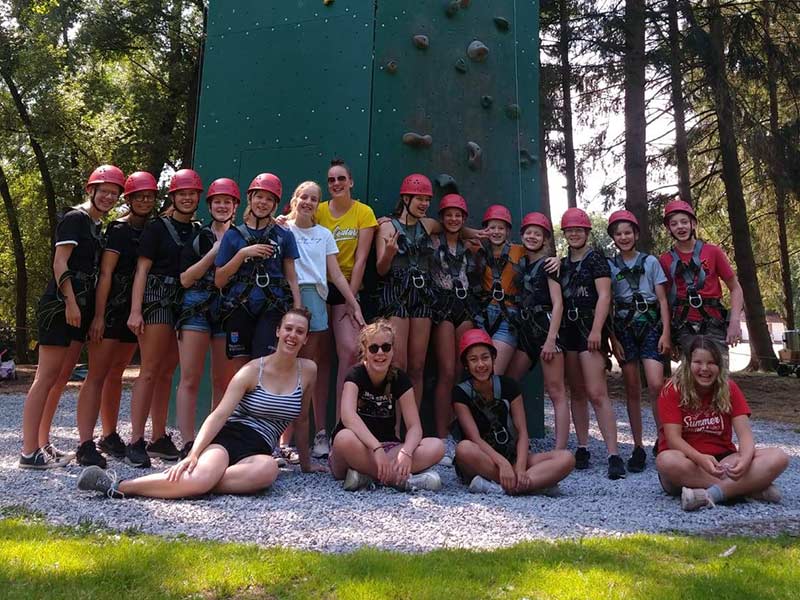 Are you looking for a suitable location for an introduction camp? Summercamp Heino has every thing every introduction to make a great success!
1050 beds in simple, but spacious group accommodations.
Swimming pool, sports hall, lake with beach, cinema room with stage, disco, bar, pizzeria, sports fields and the nice thing is that almost everything can be used at no extra cost.
Good meals in the restaurant: so no dishes!
It is important that the introduction camp takes place from the school. This does not include study associations, our hostel is more suitable for that. All participants must be under 21 years old, supervisors may be older.
Overnight stay incl. breakfast
€ 19,60 p.p. (18:00 – 10:00)
1st half day incl. lunch
€ 4,90 p.p. (10:00 – 14:00)
2nd half day incl. diner
€ 9,80 p.p. (14:00 – 18:00)
Duvet package incl. sheets (optional)
€ 10.00 per package
Duvet only
€ 6.00 per duvet
Bed linen package only
€ 5.00 per package
Tourist and environmental surcharge
€ 1.55 per night
Weekend bonus
€ 2.50 per night
One-time starting rate
€ 6.50 p.p. (regardless of the number of nights)
Reservation costs
€ 12.50 per group
* Discount:
Stay from Monday – Wednesday : € 2 per person. Excluding May 23 – 25.
Off season discount October : € 2 per person.
* Not applicable for Hostel Woodland. Double discounts are possible.
Facilities
All day parts include the use of the facilities such as swimming pool, cinema, disco, sports hall, etc. and include a meal. You can decide for yourself whether or not to use this, but no refund will be given.
Days in between
You always pay for all parts of the day on intermediate days. Which parts of the day you pay on the first and last day depends on your arrival and departure time, which must fall within the above-mentioned half-day times. If you deviate from this, you automatically pay an extra part of the day.
For day guests and visitors, the prices mentioned opposite can be used per half day. They are therefore allowed to use the facilities.
Dinner first day
To enjoy dinner on the first day, you must arrive before 18:00. If you arrive after 6 p.m., you only pay for an overnight stay with breakfast that day.
During the week:
Wednesday 11 am to Friday 10 am: € 75.10 + € 2.10 p.p.
(2×19.60, 2×4.90, 2×9.80, 1×6.50 + tourist tax)
Weekend:
Weekend: Friday evening from 6 p.m. to Sunday 2 p.m.: € 70.30 + € 2.10 p.p.
(2×19.60, 2×4.90, 1×9.80, 2×2.50, 1×6.50 + tourist tax)